Next workshops


August 27 & 28, 2022

I discovered the art of mosaics when I haphazardly picked up a kit in a department store. I stuck some small squares on a photo frame. It was quite simple and… and so cute! It had enjoyed it so much that I set off… It is this pleasure to play with coloured stones that I try to pass on during my workshops : to play with shapes, materials, colors and… to create!
My workshops are open to all : young and old, beginners and experienced mosaicists. They last a choice of 2 or 3 hours. Each participant leaves with an object decorated by him or herself : a photo frame, a coaster, a table mat, a mirror… No need to commit, you can join us just for once and come back… if you like.
What do the workshops look like ? 
when you arrive you choose an object you will decorate

then you pick the small ceramic tiles, according to their texture, colour and sizes

you prepare a composition, with or without a pattern, requiring the tiles to be cut or not

you glue your creation on your object

finally, you put on the joint (the cement will fill any holes between the tiles and guarantees that your object will be waterproof).

and of course, I will guide you through each step !
In 2 hours you can make a coaster, or a picture frame
In 4 hours, a tablemat, a mirror, several coasters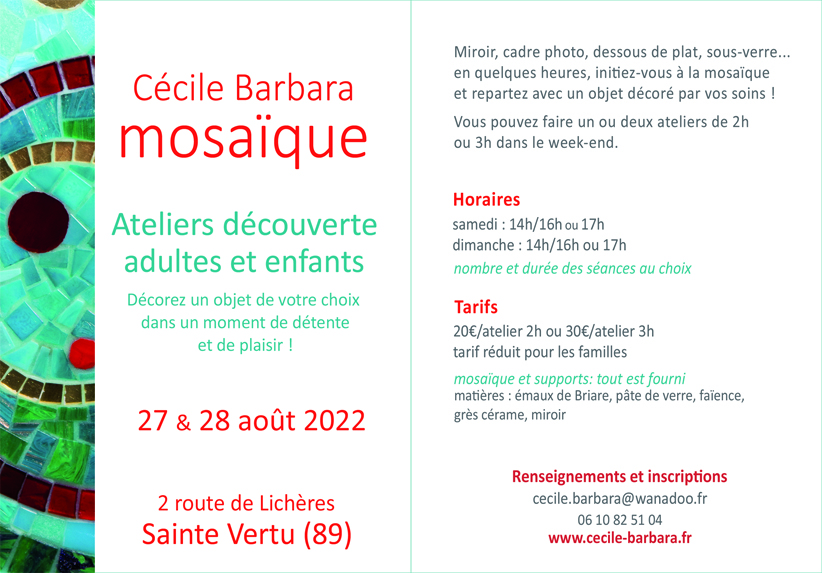 And also !
You can enjoy a relaxing break in Burgundy : art gallery, massages, wine tasting, good food, charming bed and breakfast places… all in our village or nearby. More information below.
In our village…

Gallery Joëlle Kem Lika
Painter Joëlle Kem Lika exhibits her work all over the world. She has exhibited in art galleries worldwide, Miami, New York, Houston, Shanghaï, Beijing, London, Berlin… and is present in online art galleries : Saatchi Art, based in Los Angeles, Artsper and Singulart both based in Paris. She created her first art gallery in Sainte Vertu thirteen years ago. The gallery is now showing the exhibition "Symphonie & Variations ", showcasing paintings by Joëlle Kem Lika and photos by photographers Philip Provily and Joëlle Dollé.
Open Saturday and Sunday 3 to 7 pm
44 Grande Rue – Sainte Vertu
www.joellekemlika.fr
La Terrasse du 44
Fresh drinks, tea, coffee, deserts and ice cream… 100% organic and home made, on this charming terrace, with an industrial, re-used and vintage style !
During the winter season, you will find warm drinks and homemade pastries in the comfortable warmth of the art gallery.
Open Saturdays and Sundays 3:30 – 7 pm
44 Grande Rue – Sainte Vertu
Well-being massages
A relaxing break… After having lived in Asia for three years, having created a spa in the city of Lille and performed massages for ten years, Marion Serraz has created l'Instant Serein in Sainte Vertu in 2012. She offers facial and body massages.
L'Instant Serein – 15  Grande Rue – Sainte Vertu
www.linstantserein.com
Charming guest houses in our village
Chez Séverine et Edward
A spacious guest house with wooden beams, stone and forged iron decoration with a vintage touch, in a green setting along the Serein river.
2 bis Grande Rue – 89310 Sainte Vertu
www.chezseverineetedward.com
Chez Anne-Marie et François
Set in a big garden, the house offers a relaxing environment that invites to the calmness of the guest room or an unusual escapade in their circus caravan.
4 Grande Rue – 89310 Sainte Vertu
www.ecrinduserein.com 
… and nearby
Good food !
Au fil du Zinc
Set in the heart of Chablis in a beautiful old building, this restaurant is run by a young team, trained by Joël Robuchon, and offers new style French food, with fresh and seasonal products.
18, rue des Moulins – 89800 Chablis (15 km from Sainte Vertu)
www.au-fil-du-zinc.restaurant-chablis.fr
Les Trois Bourgeons
Creative cuisine that follows the thread of the seasons, prepared by a japanese team. Friendly atmosphere with a kitchen view !
10, rue Auxerroise – 89800 Chablis (15 km from Sainte Vertu)
www.les-trois-bourgeons-restaurant-chablis.fr
L'Abbaye Saint-Michel
Located in a 2 hectare park, the abbey welcomes its customers in a 17th century arched room for traditional French bistro cuisine with an international flavor.
Chemin du Bel air – 89700 Tonnerre (16 km from Sainte Vertu)
http://www.l-abbaye.fr/